This year is almost "closed door" and not a few smartphone manufacturers are preparing to release the device next year. Especially at the beginning of the year there will be a CES 2019 event which takes place in Las Vegas and MWC 2019 in Barcelona.
One smartphone manufacturer that is ready to release the device next year is ASUS. Even a number of products that are still in the development stage have been leaked on the internet. An interesting leak certainly comes from Roland Quandt via his official Twitter account.
Yes! Roland wrote that ASUS is currently busy working on smartphones that will launch next year as well as Chrome OS-based tablets. According to him, one of the smartphones to be released is the new Zenfone with the model number ZB634KL which will have three rear cameras.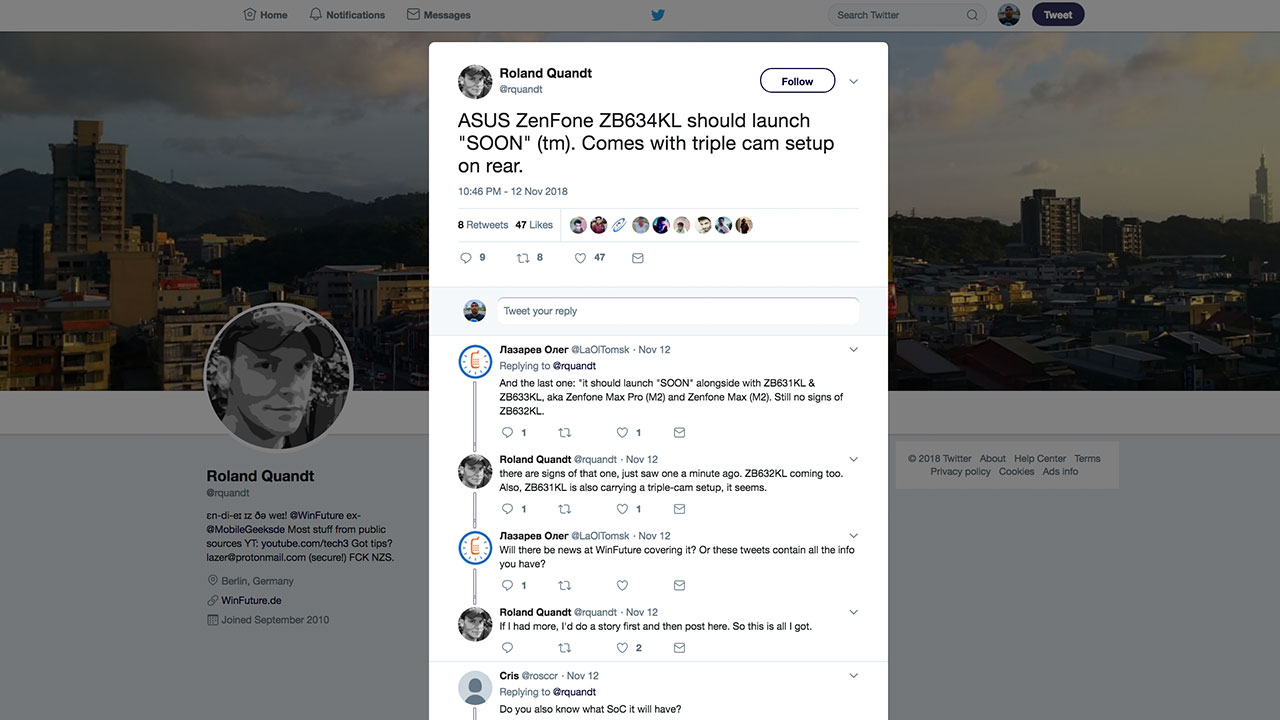 Even strengthened by a Russian technology blog, Mobitelefon, said that the ASUS smartphone that will launch is the successor to the Zenfone Max Pro (M1). Yes! This is based on the first two alphabets of the model number (ZB) that are the same as those in the Max Pro (ZB601KL).
The blog also confirms that the number "63" in the model number implies that this smartphone will come with a 6.3-inch screen. While the letters "K" and "L", each hinting at Snapdragon processor and 4G LTE support.
Allegedly strong, the ASUS ZB634KL will be launched as the ASUS Zenfone Max Pro (M2) . Even so, it's not the only "Max" series that is being developed. There is also the ASUS ZB632KL which also has three camera settings, as well as ZB631KL and ZB633KL which might come as Zenfone Max (M2) .
Besides smartphones, ASUS is also reportedly working on a Chrome OS-based tablet. Predictably, this is ASUS 'answer to competing again in the tablet market after Acer released the Chromebook Tab 10 and the Pixel Slate.
The ASUS Tablet based on Chrome OS is expected to come with a 10-inch screen. Possibly ASUS will formalize the presence of the tablet at the CES 2019 event which will take place on January 8 to 11 2019.