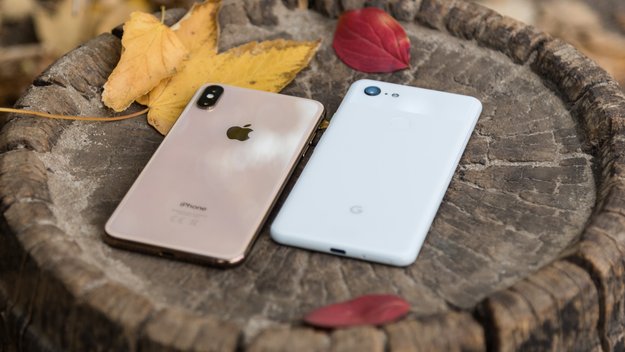 The Google Pixel 3 XL supports eSIM, …
I amazed at building blocks when I set up our test pattern for the Google Pixel 3 XL for the first time. Because in the well-known screen, where you are asked to insert a SIM card, you get the option to activate on eSIM instead. Similar to various smart watches in the future with the new iPhones, you can instead set up a virtual SIM card. One logs on to the Internet with the telephone number. Without annoying feeling with prickly Traytools and fingernail-sized chip cards. Cool thing actually, but not thought out consistently.
… but no dual SIM
Because: Google could have taken the same way as Apple here and should. At the launch of iPhone XS, XS Max and XR, Apple promised that all new devices will be dual SIM enabled. Means: After the rollout of a software update – a date closer than "later in the year" was not mentioned – iPhone owners will in future be able to simultaneously use the lines of the inserted nano-SIM card and the eSIM.
When we discovered the eSIM functionality in the pixel software, we asked of course immediately at the manufacturer, whether you could be happy as a pixel fan on dual SIM support – which would have been quite obvious. The answer was clear and disappointing.
Pixel 3 is not dual SIM enabled, users have the option to use eSIM or the regular nano-SIM.
It's a pity – especially with regard to numerous competing devices, which now offer dual-SIM in all price ranges. But that's a pity, because the technology is there: On the hardware side, eSIM support is the most important prerequisite, and in terms of software, Android has been able to manage several SIM cards at the same time for years.
Two tariffs or mobile phone cards simultaneously in one device bring freedom: Whether the second card at the resort, a lush data plan for mobile streaming or professional and private account on a device. Not everyone needs dual SIM, but those who use it know how to appreciate it. So why does Google not take this last step and deny the fans of its expensive devices dual-SIM functionality? We do not have an answer.