Hunting down the best cheap wireless earbuds is like finding a needle in a haystack. You'll search through hundreds of low-priced selections until stumbling upon that one inexpensive gem that pairs perfectly with your devices. 
We're seeing models from popular brands like Anker, Jabra, JBL, and Samsung that have received significant price drops over the past few months. In addition, there is an influx of new brands like OnePlus and Nothing releasing super-affordable buds that are undercutting some of the market's best wireless earbuds. You hear that, Apple? The competition is catching up.
In assembling a list of the best cheap wireless earbuds, lots of testing was performed and numerous variables were taken into account, including design, battery life, sound, and special features. Most importantly, we capped this list at $100, which we feel is a reasonable and attainable price point for many consumers.
What are the best cheap wireless earbuds to pair with your smartphone, tablet or laptop? Keep reading to find out.
What are the best cheap wireless earbuds?
Topping our list of the best cheap wireless earbuds is the Samsung Galaxy Buds 2. These buds have recently dropped down in price, going for as low as $99. Expect strong audio and access to several features tied to Samsung's Galaxy ecosystem, along with a variety of cool features. The different color options are enticing as well.
A close runner-up is the Google Pixel Buds A-Series. This affordable take on the company's flagship buds packs several franchise staples (e.g., Google Assistant integration, Fast Pair) into a chic and comfy design. More attractive is the pebble-shaped charging case, which is conveniently portable and one of the coolest-looking cases ever made. Keep in mind that Google continues to push out software updates that add new features to the buds.
The $79 Anker Soundcore Liberty Air 2 Pro fills the No. 3 spot with great all-around performance. Its strong feature set is also something you won't find on many sub-$100 rivals. Not too far behind is the Creative Outlier Pro ANC, a model that surpasses expectations with hi-fi sound quality and strong noise cancellation at a low price.
Check out our full rankings of the best cheap wireless earbuds you can purchase right now!
The best cheap wireless earbuds you can buy today
The small but mighty Galaxy Buds 2 is a fantastic value for Samsung Galaxy smartphone owners that require portable audio companionship. Powerful ANC and ambient modes give you full control of how much external sound you want to hear, while the dynamic two-way speaker pumps out crisp highs and deep lows. Those who own a Galaxy smartphone get special perks like the low-latency Gaming Mode and Samsung's Scalable Codec support, which enhances audio quality over the SBC codec. The Galaxy Wearable app also extends functionality with an Accessibility mode to let you assign ANC to one earbud, plus an EQ that has six well-engineered presets.
The weaker IPX2 durability means these buds aren't as water-resistant as other competitors, and the less premium design makes the high-end Galaxy Buds Pro more enticing. Nonetheless, it's an affordably suitable pickup for anyone invested in Samsung's mobile ecosystem.
Read our full Samsung Galaxy Buds 2 review.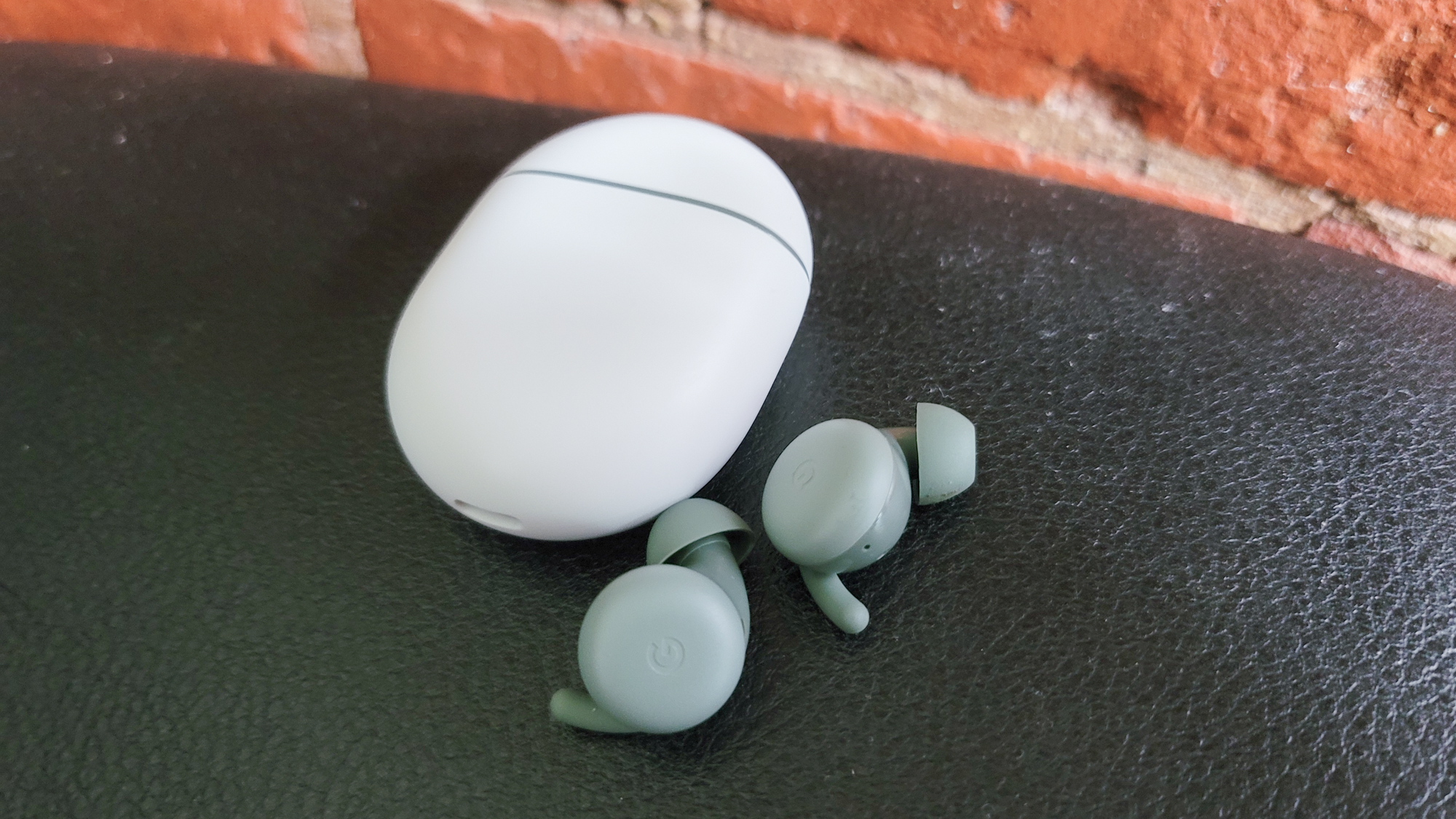 Google's first attempt at wireless earbuds wasn't well received, and though the second-gen Pixel Buds were a notable upgrade, it's the Pixel Buds A-Series that has saved the franchise from obscurity. These $99 earbuds have lots of smarts and a stylish design that complements the brand's popular Pixel smartphones. No other buds can match the A-Series Google Assistant integration, which lets you fire off hundreds of voice commands with ease. Comfort is another strength, allowing you to wear the buds for hours on end without experiencing soreness. Then there is Google's Adaptive Sound technology that enhances audio quality by adjusting the volume according to your environment for optimal listening. 
Outside of wireless charging, the Pixel A-Series offers nearly the same performance as its higher-priced sibling. That makes it the better purchase for all Android users.
Read our full Google Pixel Buds A-Series review.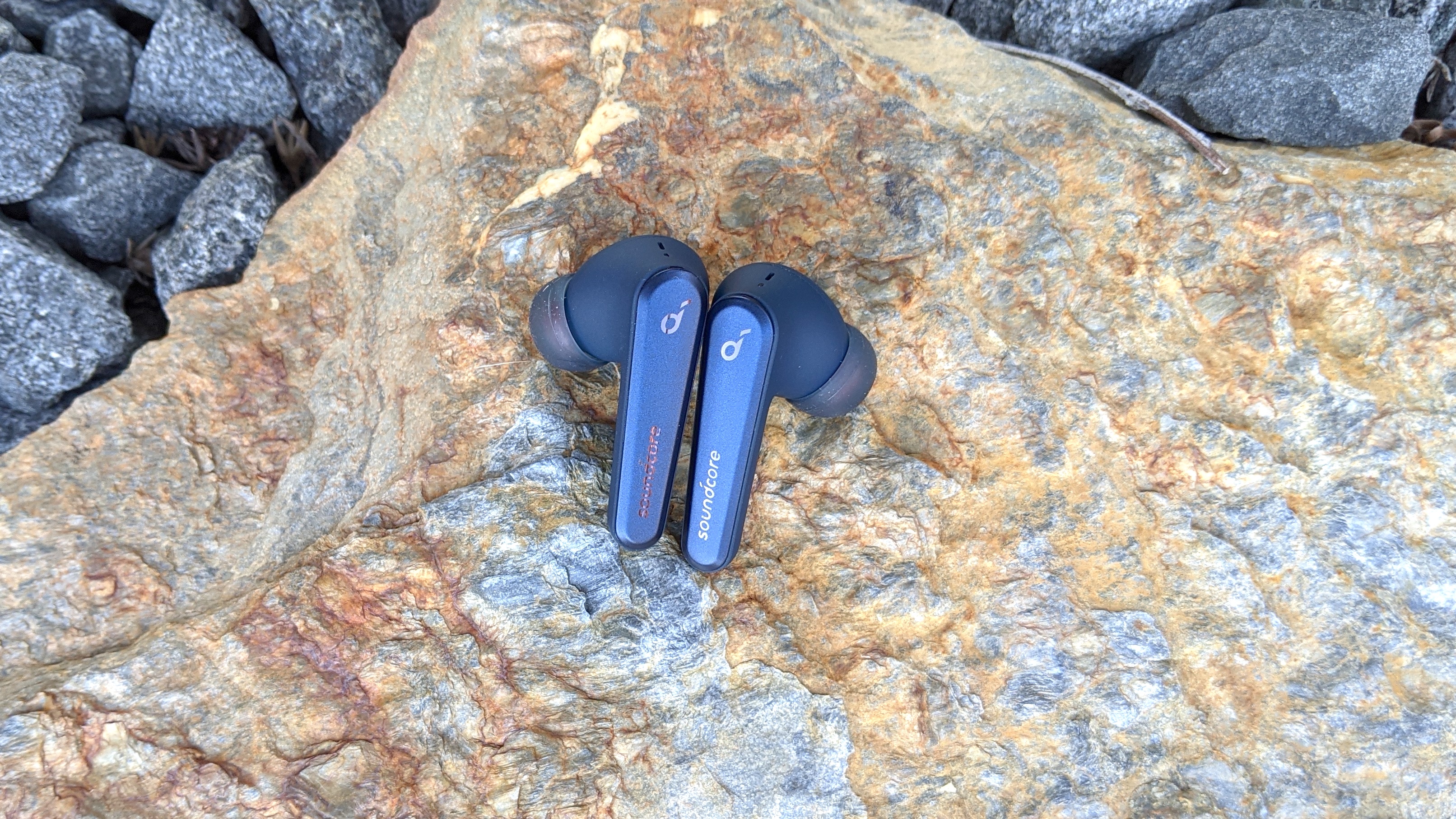 The original Liberty Air 2 was considered a Laptop Magazine favorite for its great audio quality, excellent connectivity, and serviceable listening modes. Anker upped the ante with its successor, the Liberty Air 2 Pro, adding new features (e.g., Tip Fit Test, LÜM music service) into the mix, along with adaptive noise cancellation that is not only engineered to block out ambient noise in different environments, but can also be adjusted at the user's discretion. Battery life on the buds and the redesigned wireless charging case are both rated higher than the AirPods Pro.
Sound is rich and punchy, though audiophiles might take issue with the lacking highs these buds produce. Luckily, there's the EQ with 22 presets and a custom profile to tweak sound to your hearing. Besides the high end, the only real issue these buds have are the touch controls, which have limited gesture input and operate on a delay.
Read our full Anker Soundcore Liberty Air 2 Pro review.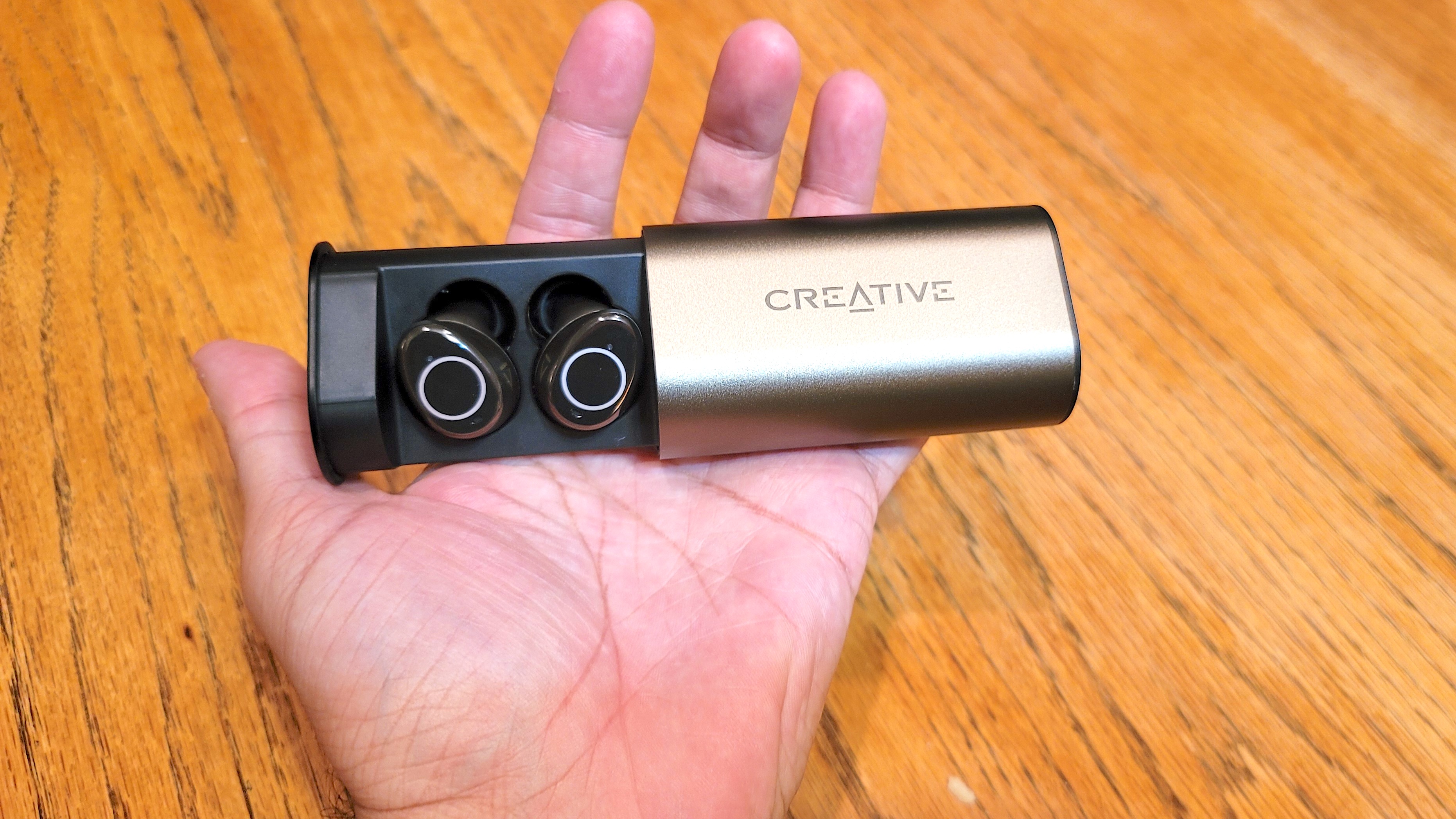 Creative has put out numerous cheap wireless earbuds, but none can hold a candle to the Outlier Pro ANC. On top of delivering some of the longest battery life in the category, these buds are loaded with high-powered audio specs, including a 10mm graphene-coated driver, limitless EQ presets, and Super X-Fi compatibility to upscale music for 3D sound. There are caveats such as Super X-Fi only working in the SXFi app and with music files stored on your mobile device. However, the feature is effective and gives music a more natural presence. Hybrid ANC is also part of the package and blocks out noise at a higher level than most sub-luxury wireless earbuds.  
The controls aren't the most reliable and the large design makes for an uncomfortable wear at times, but these are compromises you can live with for the price.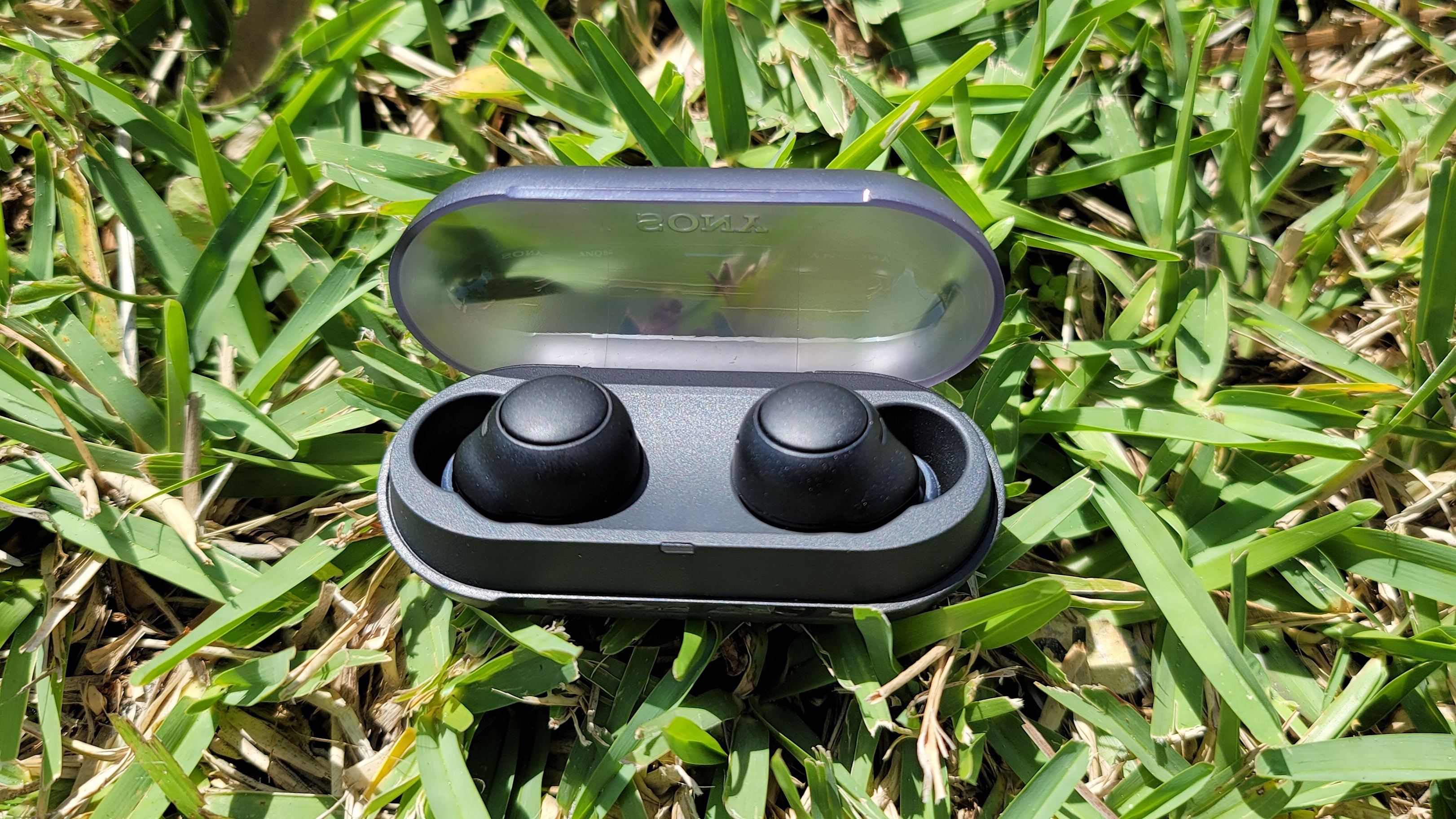 Originally launched for $100, the WF-C500 has been seen on sale for as low as $69 (opens in new tab), making it one of the best true wireless deals out there. Sony managed to stuff several of their proprietary technologies into these buds, including 360 Reality Audio and Digital Sound Enhancement Engine (DSEE), both of which bring a more immersive, natural-sounding experience to music. Access to the Sony Headphones Connect app lets users personalize the buds in multiple ways (we recommend playing with the customizable EQ). Getting 10 hours on a single charge is something you won't find in many rivals at any price point.
To accommodate the low MSRP, Sony had to limit battery life on the charging case; 20 hours falls short of the industry standard (24 hours). On the plus side, it looks much cooler than the AirPods case and is conveniently portable.
Read our full Sony WF-C500 review.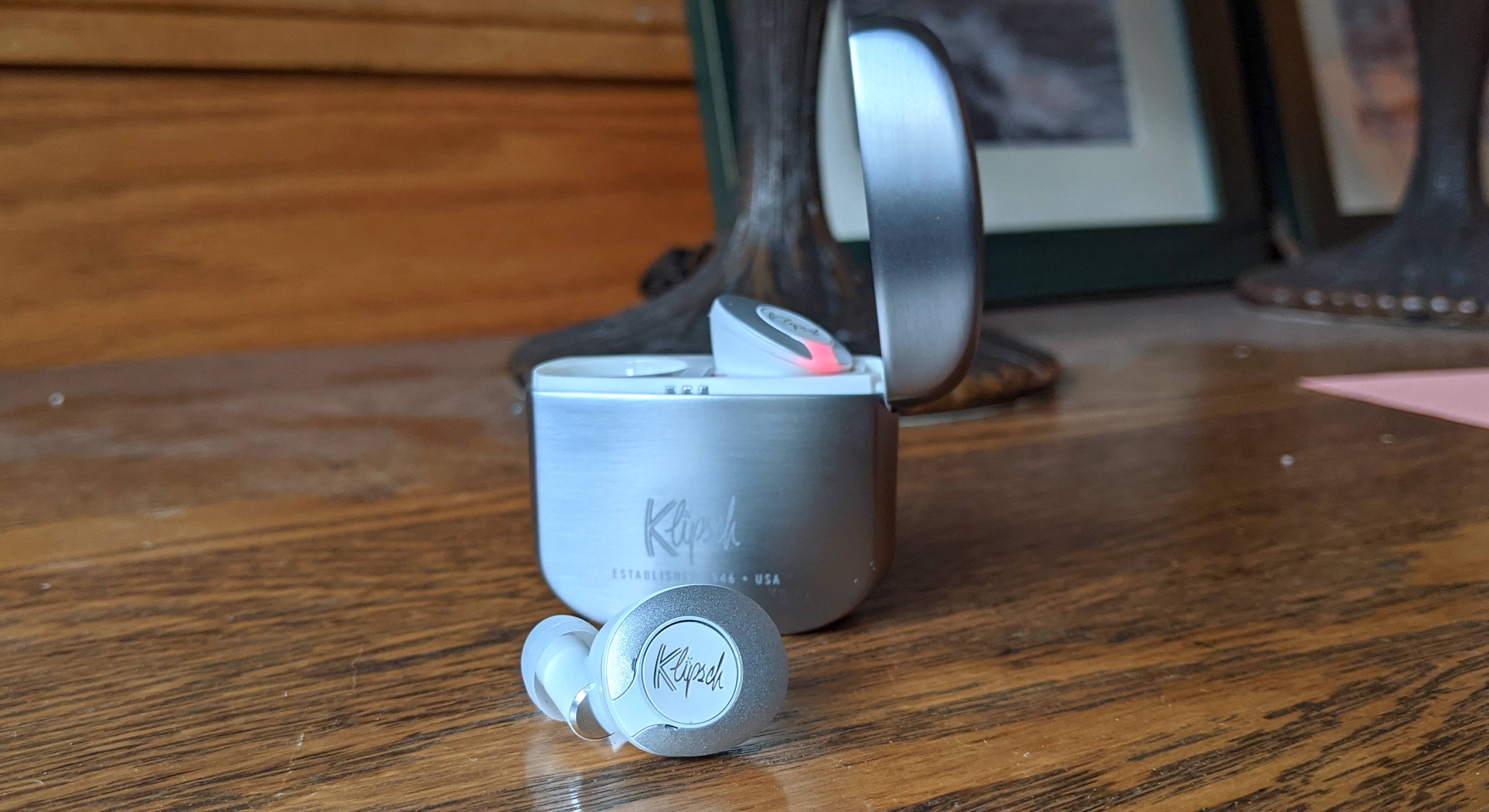 They say looks can only get you so far, but in the case of the Klipsch T5 II, it's just one of many hallmarks that make these wireless earbuds an underrated gem. Klipsch's audio is exceptional, giving you the perfect blend of bright and warm sound. You can tweak the soundstage via mobile app, though the default is perfect as is. A full charge gets you about 7.5 hours more or less, which is highly sufficient. Then there is the star of the show, the Zippo lighter-inspired charging case, a durable aluminum block that beautifully displays and stores the buds and holds an additional 24 hours of playtime.
While it's easy to get caught up in the nostalgic beauty that is the T5 II, you're quickly reminded of the model's limited feature set, which could have benefited from more modern functionality. This includes active noise cancellation, wireless charging, and, yes, a Find My Buds mode.
Read our full Klipsch T5 II review.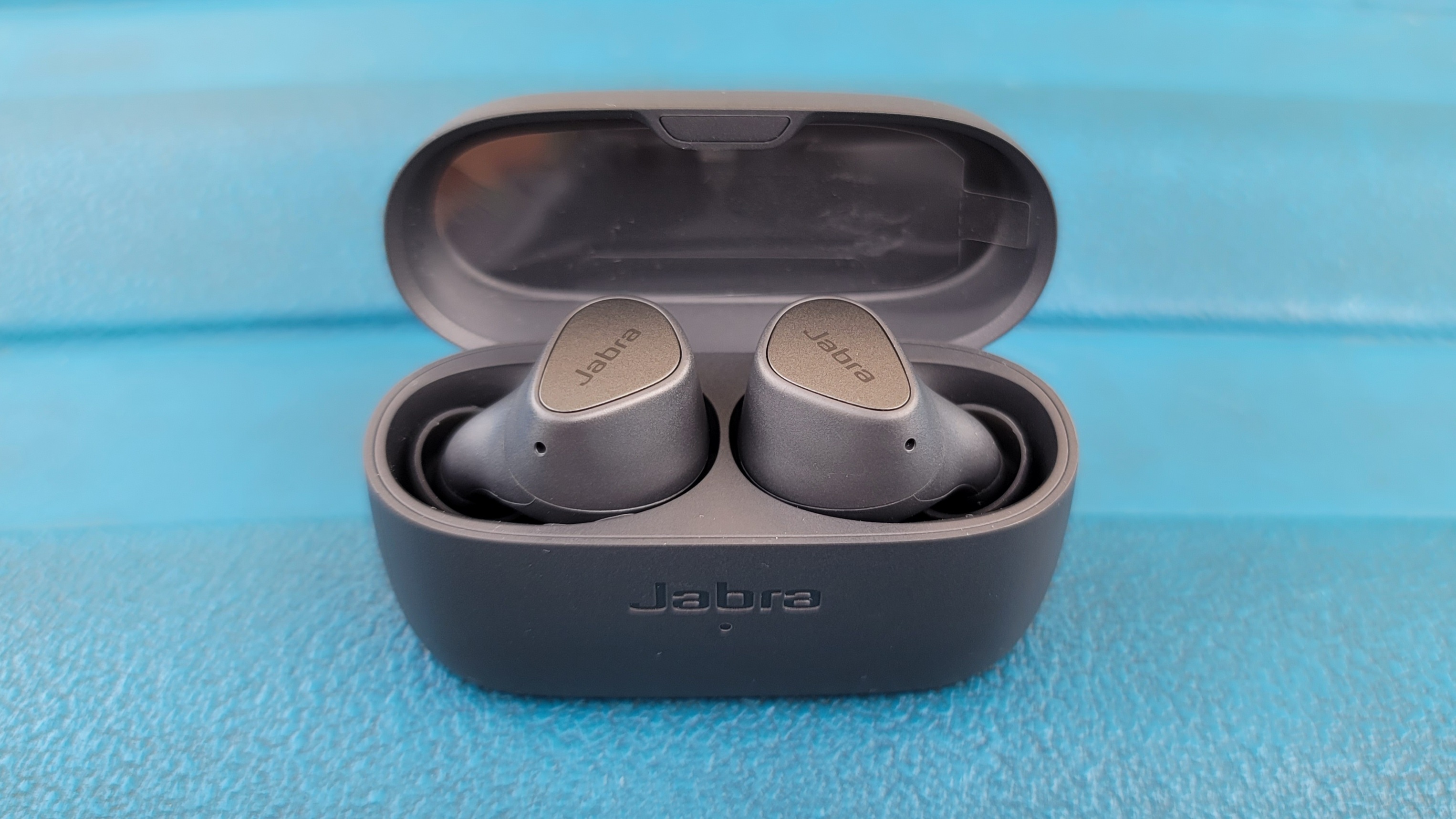 On sale for $68, the Jabra Elite 3 grants you signature Jabra performance for nearly half the price of the brand's premium models, as well as the AirPods. Music sounds loud and lively, thanks to powerful, yet tiny 6mm speakers, which produce warm, rich audio. Want a little bass or more emphasis on highs? The Jabra Sound+ app gives you that through a group of well-engineered presets. You'll find some other unique software perks in the app such as HearThrough for dependable ambient listening and Call Experience to optimize what's already excellent call quality by boosting your vocals on calls. Bluetooth 5.2 guarantees strong and fast connections, while Google Fast Pair provides one-touch pairing with Android devices.
Do we miss some of Jabra's more enticing features such as ANC, multipoint technology, and MySound to create a sound profile that's tailored to your hearing? Of course. At the same time, the Elite 3 is giving you much more in functionality and performance than numerous other models at its price point.
Read our full Jabra Elite 3 review.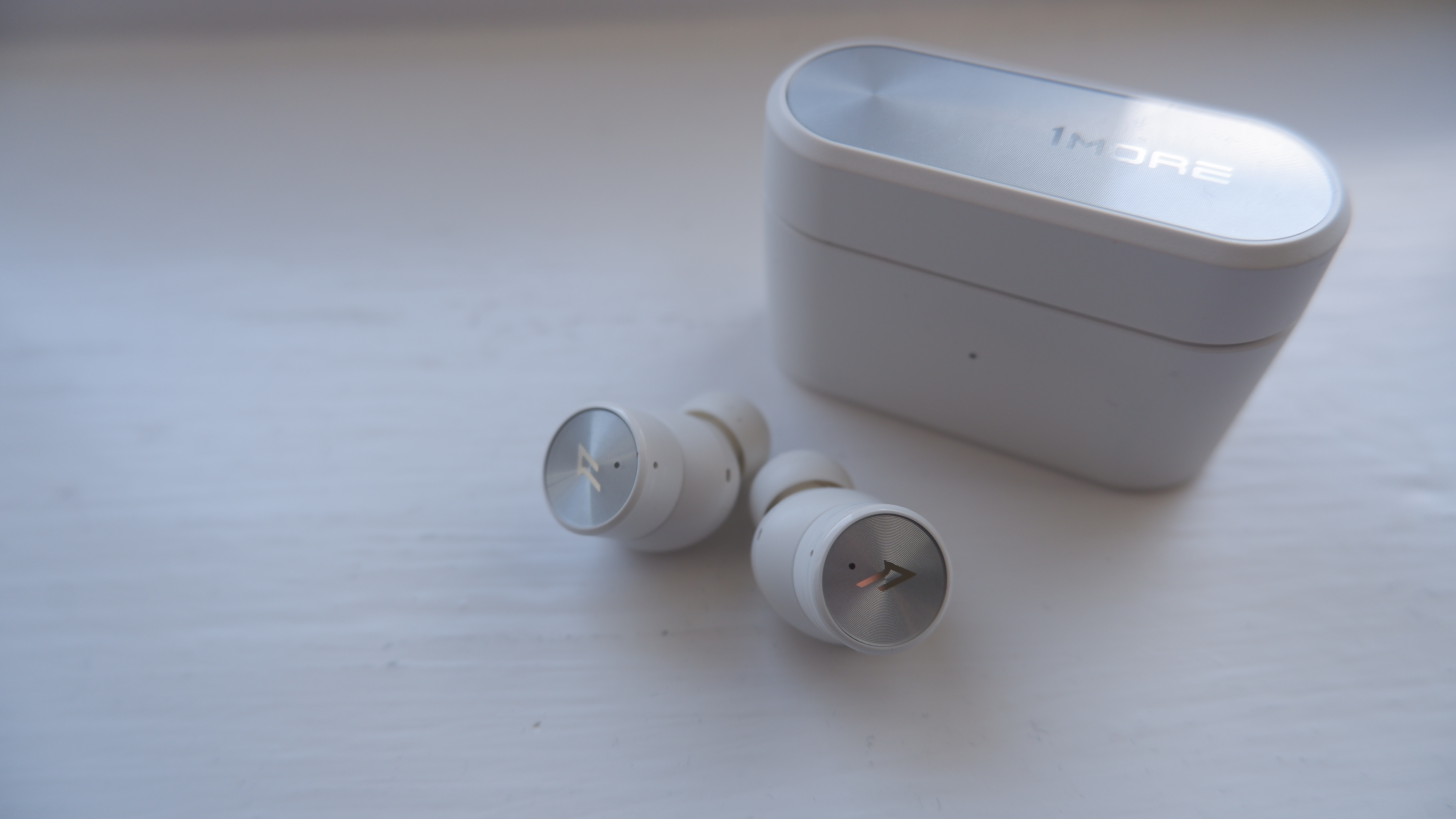 1More has released numerous cheap wireless earbuds over the past year, but only a few have proven to be of quality. Add the PistonBuds Pro to that list. These $59 buds have an impressive feature set, which consists of an EQ with multiple well-engineered presets, effective ANC, and a low latency mode designed to improve audio synchronization when gaming. A 10mm dynamic driver with an aero titanium membrane dishes out clear, balanced sound with strong bass at the forefront. Battery life is sufficient at 7.5 hours per charge. Connectivity is also strong and extends up to 60 feet.
Call quality has never been great on 1More wireless earbuds, and the PistonBuds Pro is no different. In addition, the volume levels could have been raised a little higher.
Read our full 1More PistonBuds Pro review.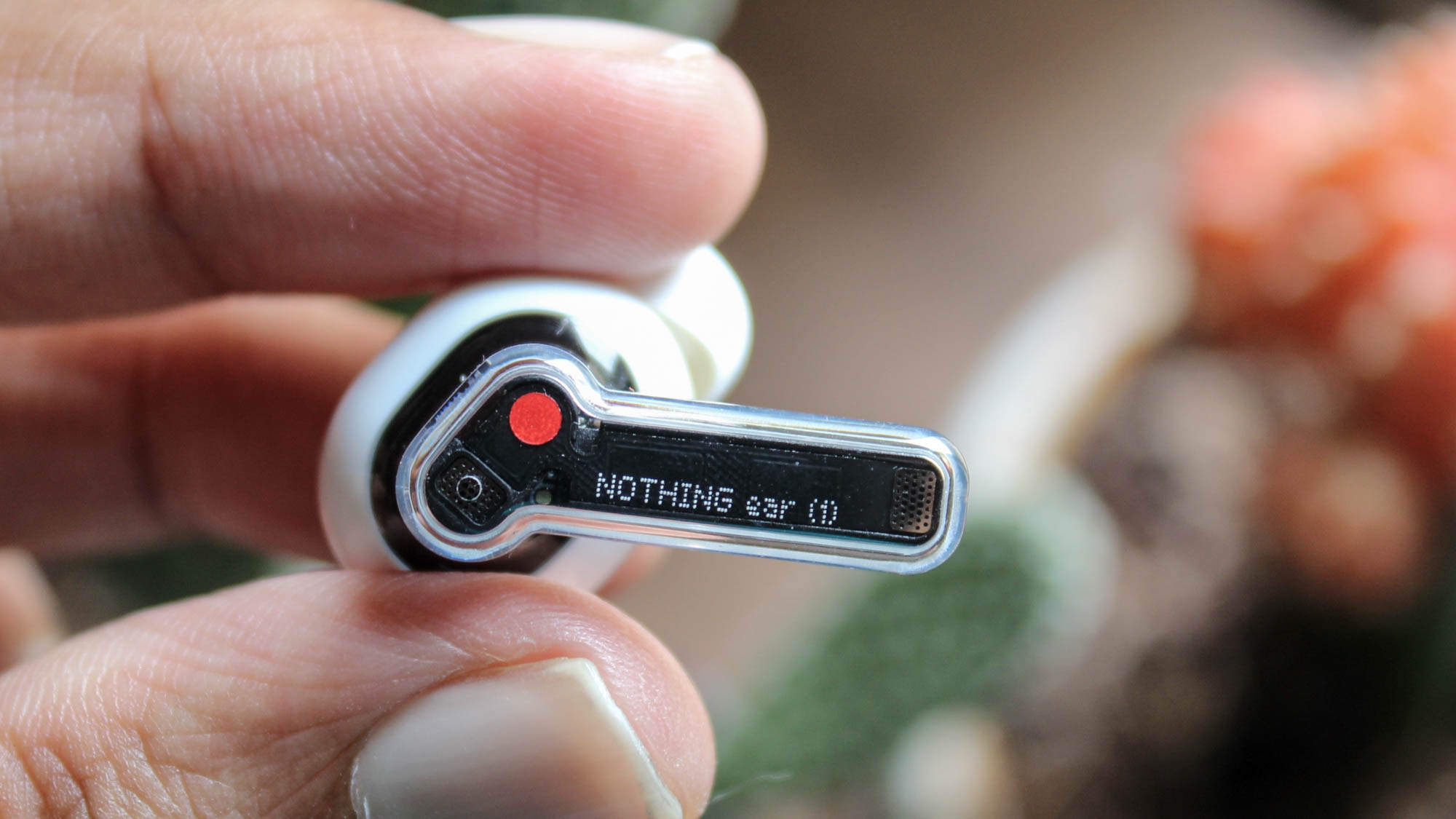 For under a Benjamin, the Nothing Ear (1) might be the most highly functioning, feature-heavy wireless earbuds in its price class. The company stuffed 11.6mm drivers underneath its see-through cover, which are bigger than what Master & Dynamic uses, and produce well-balanced frequencies. You'll feel the warmth of lows and identify every instrument in the mids and highs. The noise cancellation on these buds hasn't gotten the attention it deserves, outperforming popular rivals like the Soundcore's Liberty Air 2 Pro and even the AirPods Pro with stronger wind resistance. The transparent design won't be for everyone, but there's no denying that it is innovative.
Nothing doesn't hit every mark, which shows in the weak battery life (4 hours of ANC playback) and limited sound customization. However, these are trivial complaints when looking at the bigger picture.
Read our full Nothing Ear (1) review.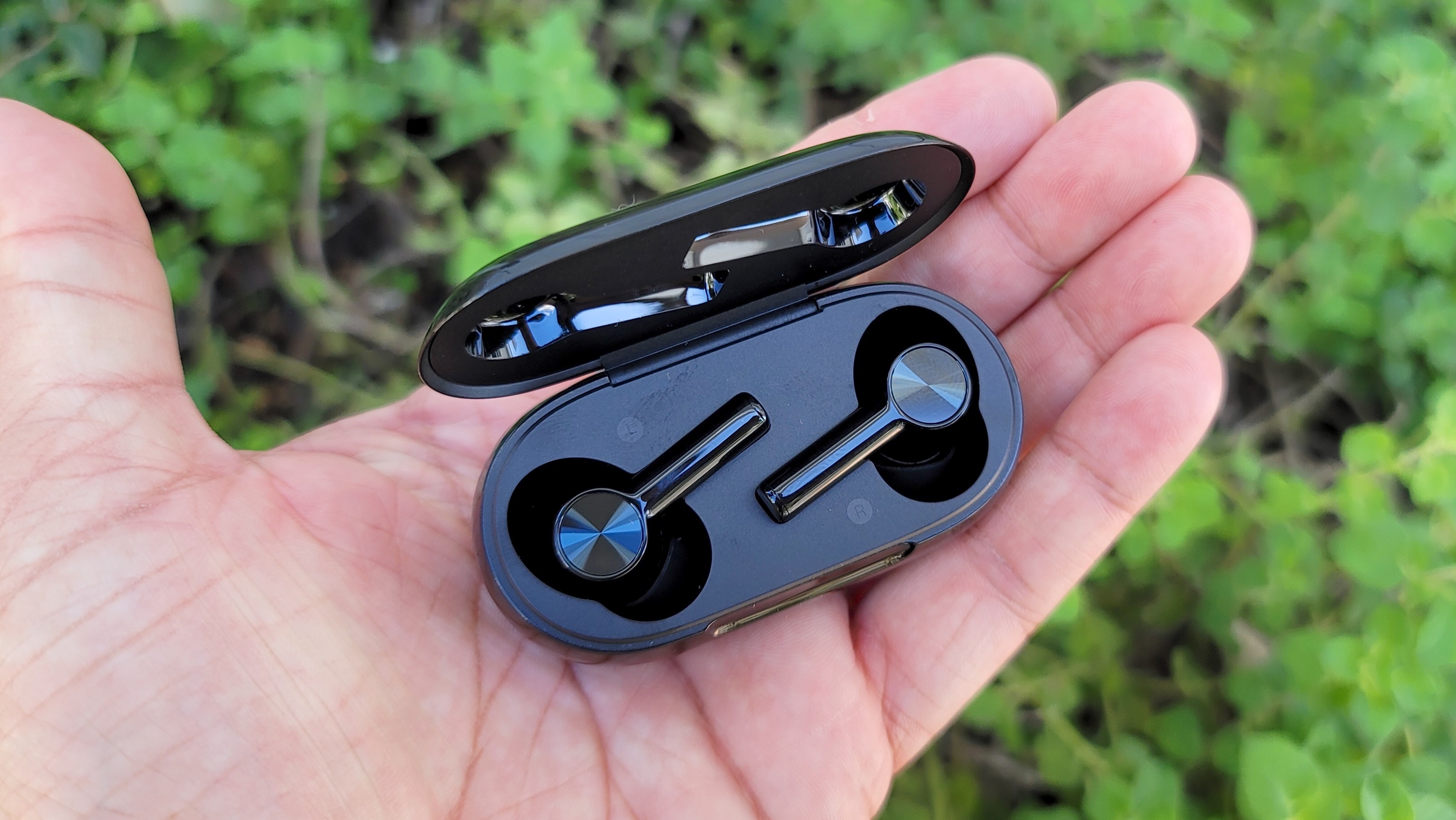 Need some new buds to pair with your OnePlus 9? While the more powerful Buds Pro is a quality option, it's hard to pass up a deal like the Buds Z2. You're getting impressive noise cancellation that blocks out a large amount of low and mid-frequency sounds, along with dynamic sound and strong connectivity for under $100. Warp Charging isn't available on this model, but OnePlus did include Fast Charge technology as an alternative to power up the buds in a timely manner: 10 minutes nets you 2 hours of listening time.
Those with a newer OnePlus device receive access to special features like Dolby Atmos support and Pro Gaming Mode for lower latency when playing video games. Sadly, other Android and iOS users lose out on these goodies.
Read our full OnePlus Buds Z2 review.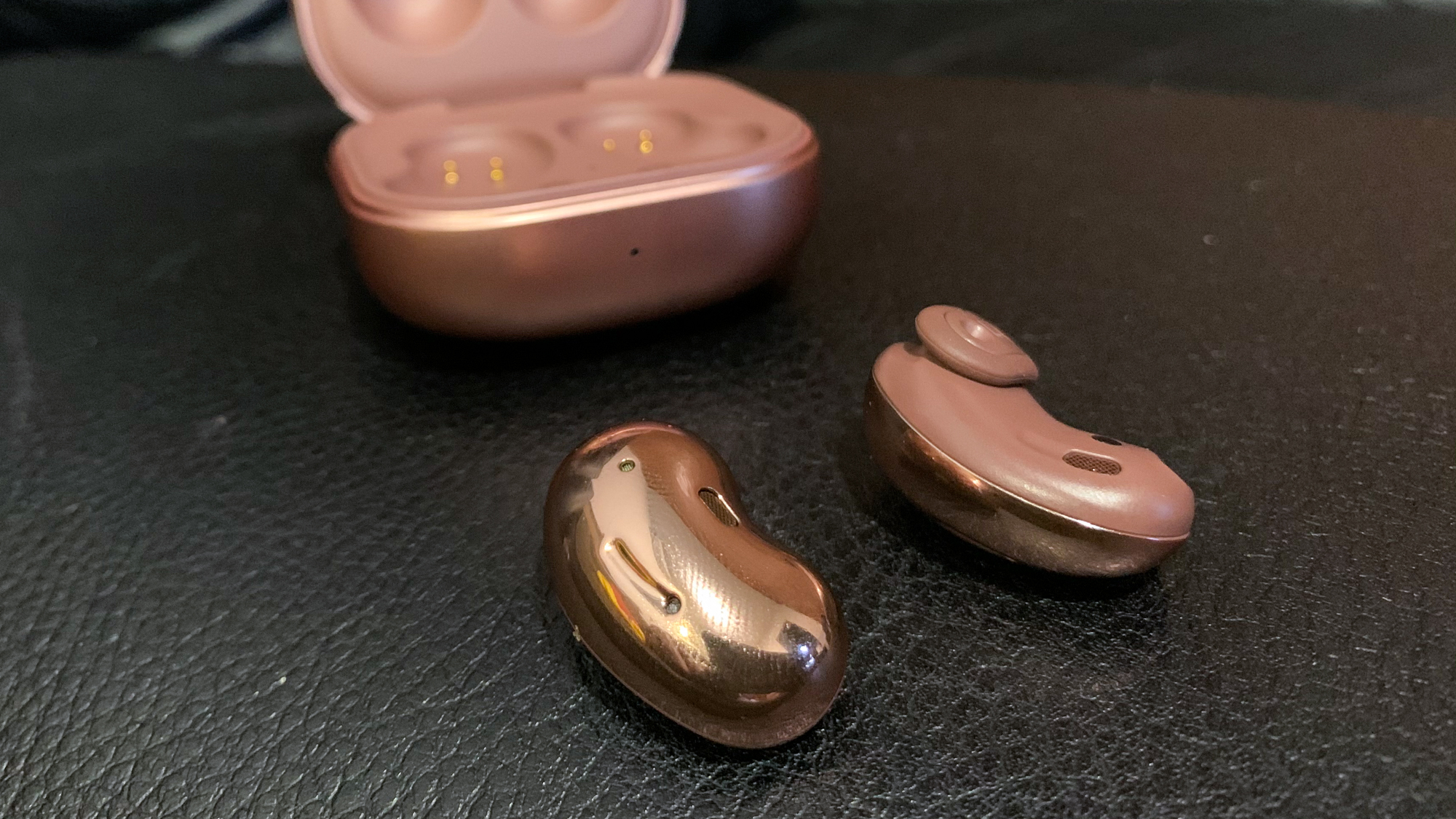 Samsung's first-ever ANC wireless earbuds are a notable entry in the company's line of popular mobile accessories and delivers top-tier sound in a unique, stylish design. You can expect crisp treble, clear vocals, and impactful bass when indulging in Spotify playlists, which you can instantly pull up on the buds with the touch of a button by customizing the controls in the Galaxy Wear app. There's also the option to fine-tune sound to your liking by selecting from six different presets. One of the bigger perks of owning these buds over the AirPods Pro is longer battery life; the Galaxy Buds Live offers an hour more playtime with ANC on and three hours more when turned off.
However, the device's killer feature, active noise cancellation, does not live up to expectations. It's decent enough to eliminate small ambient noises, but don't expect silence when walking down a busy street. We feel the touch controls could be better as well.
Read our full Samsung Galaxy Buds Live review.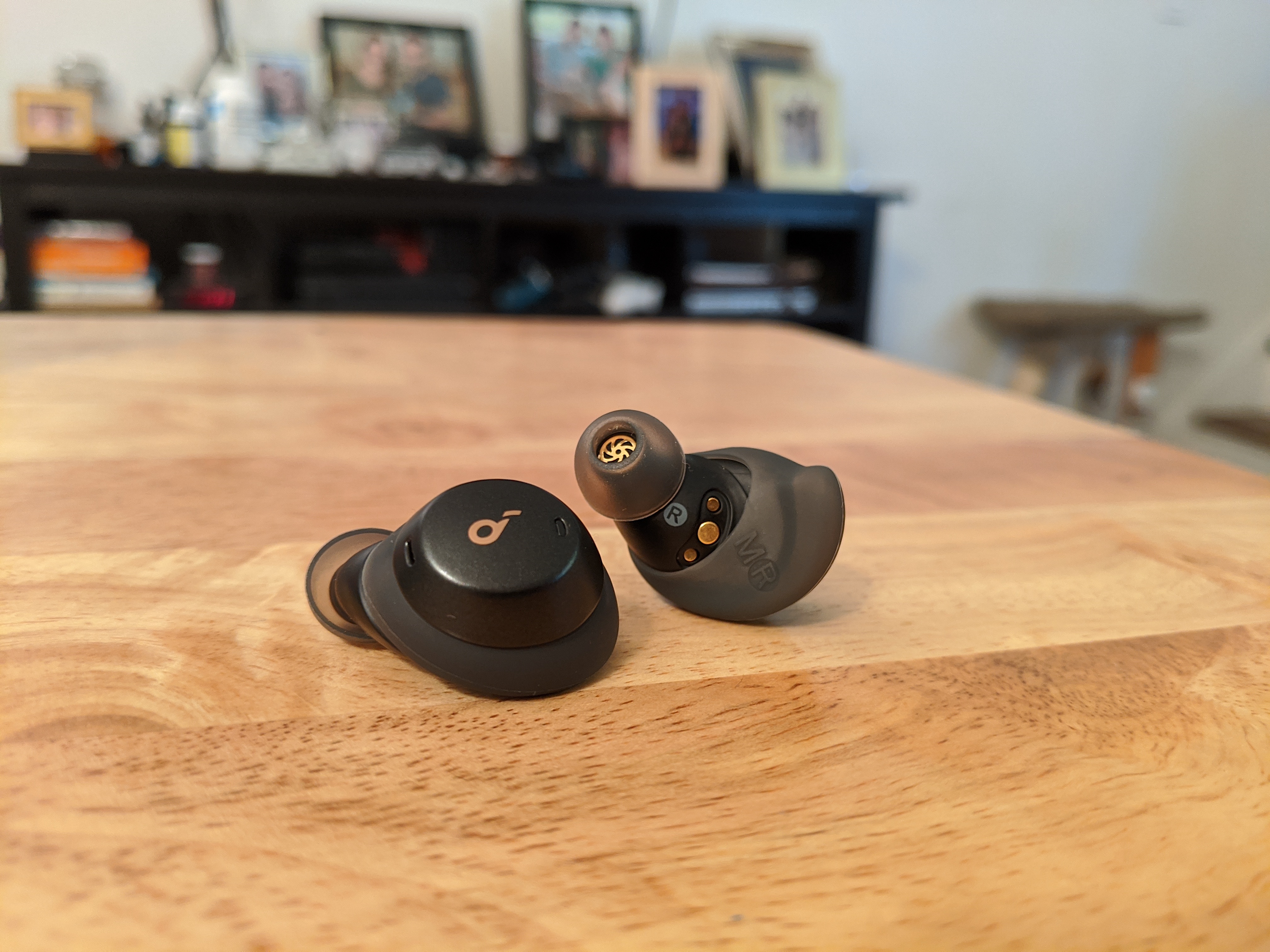 The Spirit Dot 2 stands out as one of the best wireless earbuds under $100, thanks to its sporty aesthetics and high-tech functionality. Anker designed these buds to be sweatproof and waterproof, draping the exterior with IPX7 coating, which is one of the highest ratings in the category. Comfort and fit are guaranteed with Anker bundling a host of ear tips and wings to accommodate different ear shapes. Where you really get your money's worth is in bass response, as the buds pump out powerful lows that don't compromise the sound with unwanted distortion.
With a lower price comes compromises. In the case of the Spirit Dot 2, it's zero access to the Soundcore app, which means you're missing out on popular features (e.g. customizable EQ, HearID) that could enhance audio quality. Criticism aside, you're afforded much more performance than the cost-friendly MSRP would suggest; $80 for these buds is a steal.
Read our full Anker Soundcore Spirit Dot 2 review.
How to choose the best cheap wireless earbuds for you
The best wireless earbuds should check several boxes, starting with battery life. Apple set the industry standard by giving the AirPods 5 hours on a full charge, though we've seen numerous models surpass this rate over the years. You'll want to aim for something that offers 5 hours or more per charge, as well as a charging case that stores a minimum of 20 to 24 hours. Look around and you may discover some charging cases that offer up to 40 hours of additional use.
Audio is just as crucial to the selection process. All media formats (e.g., music, videos, games) and phones calls should be audible at a high level. Explore models with powerful drivers and customization settings to tweak sound profiles to your liking.
Next up is design. Ideally, you want a pair of buds that offer personalized fit and comfort, along with multiple ear tips to accommodate different ear shapes. Durability and water-resistant protection shouldn't be overlooked either.
Wireless functionality is another major component. Most modern wireless earbuds come with Bluetooth 5.0 to give users faster connectivity, increased range (est. 120 meters max), longer battery life, and multipoint pairing to connect to two audio sources simultaneously. Newer models are adopting Bluetooth 5.1 and 5.2, which increases performance across the board. Digital assistant support (Siri, Google, and Alexa) falls under this section as well.
Lastly, consider wireless earbuds that come with advanced features like active noise cancellation, ambient listening, customizable EQ, and enhanced codec support (e.g., aptX, LDAC/LHDC). While the majority of these are often reserved for higher-priced models, the odds of finding one or two of these on some of the best cheap wireless earbuds are high.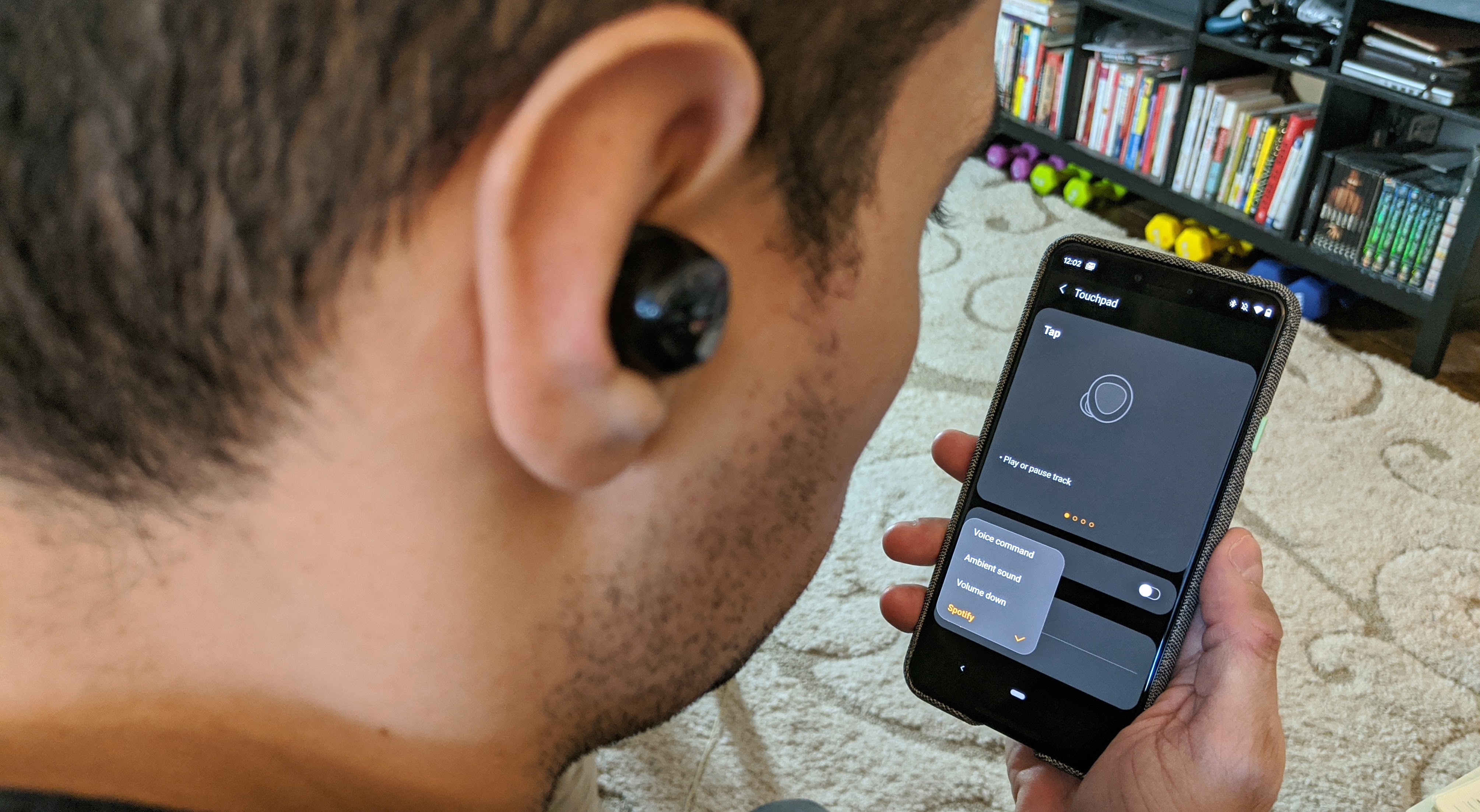 How we test the best cheap wireless earbuds
In determining the best cheap wireless earbuds, Laptop Magazine takes several factors into account, including design, sound, and value, just to name a few. Our reviewers also compare models to similar products in the same category, and at different price points.
Each pair of wireless earbuds is tested over the course of a week for 2 to 3 hours at a time. We assess ease of use, comfort, and audio quality. Reviewers listen to several sample tracks across multiple music genres, including hip-hop, rock, jazz, and classical, while analyzing clarity, depth, and volume. Audiobooks, games, podcasts, and videos are also accounted for.
We also test battery life, Bluetooth range, digital assistant support, ease of setup, and any app-enabled features compatible with laptops, desktops, and all portable devices like smartphones and tablets.
Furthermore, we test streaming music services that offer hi-res audio. To learn more about how these services can improve the sound quality on your laptops and mobile devices, here is an expert audio codec FAQ on everything you should know about FLAC files, MP3s and all other audio file codecs.
When testing is completed, all models are rated based on our five-point system (1 = worst, 5 = best). Products that are truly exemplary receive an Editor's Choice badge.