Gaming laptops: When its time to save or create the world (or just blast some baddies), accept no substitutes. Thanks to their powerful graphics, gorgeous displays and great audio, gaming laptops provide an immersive entertainment experience in a portable package. Many also offer stylish designs, desktop-quality keyboards and the ability to use high-end VR headsets. Heck, a good gaming laptop can even pull double-duty as a serious workstation. 
But most of all, gaming laptops are great for dedicated gamers with mobile lifestyles or looking to save more space than a desktop could. The gamut ranges from college students hoping to play anywhere on campus to businesspeople who want to play during a commute. Whatever you have planned for your machine, there are a lot of intricacies to mobile PC gaming, so it helps to do your research. But with so many laptops to choose from, things can get pretty complicated.
To help you pick your perfect gaming laptop, we've compiled a list of the top gaming laptops, including our top picks from popular brands including Alienware, Acer, Lenovo, MSI, Razer, Dell, and more. Over the course of a year, we review over 150 laptops covering every price point and use case. Whether you're looking for a badass gaming system with all the bells and whistles, a good mid-tier laptop that can play games at solid frame rates or an inexpensive gaming system that can play most titles, we can help you find your ideal gaming laptop. 
But in order to make our best gaming laptops list, the system needs to score at least 4 out of 5 stars on our reviews and deliver on the things shoppers care about most. Over the course of our evaluations, we focus on overall gaming performance. We're also checking for design, keyboard, audio and display quality and especially value.
What are the best gaming laptops right now?
The Alienware m17 R5 (AMD Advantage) is the our new top gaming laptop. A formidable mix of power, endurance, and design, the m17 is a force to be reckoned with. This iteration of the laptop is a total AMD affair, from its AMD Ryzen 9 6900XT processor to its AMD Radeon RX 6850 XT GPU. The 4K display even has AMD FreeSync Premium technology. Throw in the AMD Advantage suite that's designed to keep the system operation at its optimal level no matter the situation. 
If you're looking for a true convertible gaming laptop, you have to take a gander at the Asus ROG Flow X16. In addition to the versatility, you get a stunning Mini LED panel, one of AMD's powerful new Ryzen 9 processors and some solid battery life
If you're looking for serious power that's not AMD based, check out the MSI Vector GP76 with its Nvidia RTX 3070 Ti GPU and  Intel Core i9-12800HK processor. To put these gaming laptop keyboards to the test, check out the 12 PC games that play great with just a keyboard.
If you're shopping on a budget, be sure to check out our best laptops under $1.500 and best cheap laptops pages for the best deals on the market. Not enough savings for you? We hear you, and that's why we're giving you the heads up on Amazon's   (opens in new tab)Prime Early Access Sale that starts on Oct. 11 at 3 a.m. ET/12 a.m. PT. Check out our Prime Early Access gaming laptop deals hub for early holiday discounts on laptops.
And if you're in the market for a peripheral or two, take a gander at our pages for best gaming headsets, best gaming mouse, best gaming monitors and best gaming keyboard.
The best gaming laptops you can buy today
AMD and Alienware have teamed up to create the most powerful 17-inch AMD gaming laptop in the Alienware m15 R5. Both the AMD Ryzen 9 6900XT and Radeon RX 6850M XT GPU deliver big numbers on performance, enough to give their Intel and Nvidia-powered competitors a run for their money more often than not. 
And that's with no small help from the AMD Advantage software suite designed to squeeze every bit of performance out of the system no matter the situation. The lovely 4K display, powerful speakers, ultra-low profile Cherry MX are the literal cherry on top. Oh and with that Legend 2.0 design, it's just a stunner of a system. 
See our full Alienware m17 R5 (AMD Advantage) review.
Out of the box, the Asus ROG Zephyrus M16 (2022) is just so damn snazzy. Thanks to its sleek, off-black sheen and Asus' signature dot matrix design, along with a compact 15-inch chassis making the most out of its sizeable 16-inch WQXGA (2560 x 1600) display, it's difficult not to marvel at the ROG Zephyrus M16 refresh. Take a peek under the hood and it only gets better.
The Asus ROG Zephyrus M16 (2022) not only delivers a 12th Gen Intel Core i9 CPU, but also an RTX 3070 Ti GPU. The outcome? Power. is a beauty. It's the stand-out upgrade we've been waiting for since 2021's model that's due in no small part due to its dazzling 16-inch display panel, comfortable keyboard and touchpad, and absolutely gorgeous design. If you're after one of the best gaming laptops this year, the ROG Zephyrus M16 (2022) is just the ticket.
Read our full Asus ROG Zephyrus M16 (2022) review. 
MSI's Vector GP76 is the evolution of the former Leopard line, MSI's more affordable (but still premium) gaming laptops. The Vector GP76 gives you a massive 17.3-inch, 1080p display with a 360Hz refresh rate, an Intel Core i9-12900HK CPU, an Nvidia GeForce RTX 3070 Ti GPU with 8GB of VRAM, 32GB of RAM and a 1TB SSD. It's a tantalizing specs package for gamers hungry for maximum performance. It's a beastly setup that's not likely to disappoint.
The MSI Vector GP76's display definitely prioritizes speed over resolution with its 17.3-inch, 1920 x 1080 display that delivers a blistering fast 360Hz refresh rate that will win over gamers that favor fast-twitch FPS titles or racing games. And while the Vector GP76 is one of MSI's more affordable laptops, it didn't shortchange gamers with the internals. Nvidia's GeForce RTX 3070 Ti GPU with 8GB of VRAM is more than equal to just about any gaming task you can hurl at it, particularly on a 1080p display. Typing on the Vector GP76 is a pleasure with the RGB-backlit keys offering solid key travel and a springy response that was both comfortable and quick to type on.
Read our full MSI Vector GP76 review.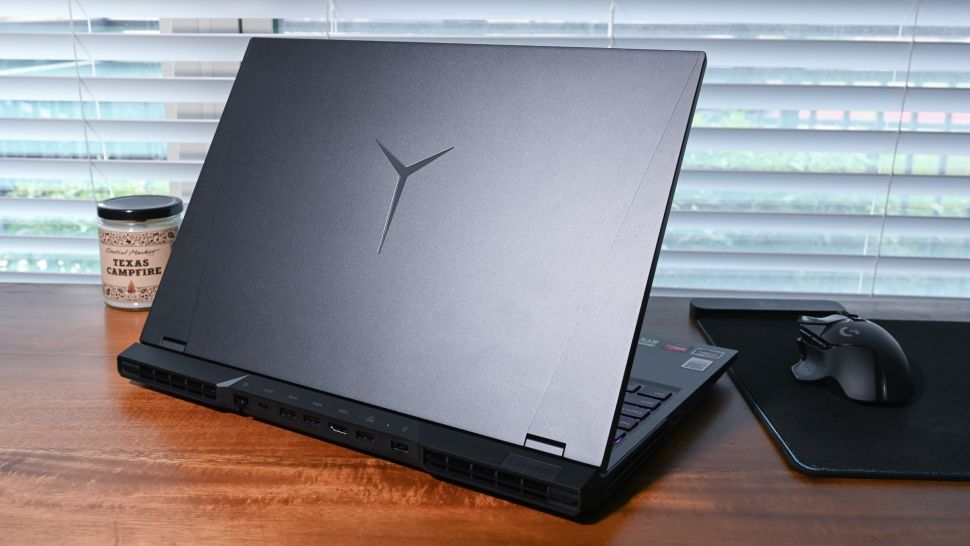 The Lenovo Legion 5 Pro proves what's possible when two opposing forces come together for the greater good. Those forces are AMD and Nvidia, and the greater good is the gaming community. Armed with an AMD Ryzen 7 5800 CPU and Nvidia GeForce RTX 3070 graphics, the Legion 5 Pro gives gamers the power they need to run the latest AAA titles at Ultra graphics settings. 
The Legion 5 Pro flaunts one of the best keyboards I've ever used. Paired with a comfortable typing experience is a bright and vivid 16-inch display, a generous selection of ports and decent battery life. Best of all, the Legion 5 Pro is priced aggressively. And what it lacks in flashy aesthetics, it makes up for with a gorgeous 16-inch QHD display. And despite harnessing so much power, the Legion 5 Pro delivers respectable battery life. 
If you're a fan of Lenovo's line of gaming laptops, check out the battle between the gaming brothers: Lenovo Legion 5 vs. Lenovo Legion 7.
Read our full Lenovo Legion 5 Pro review.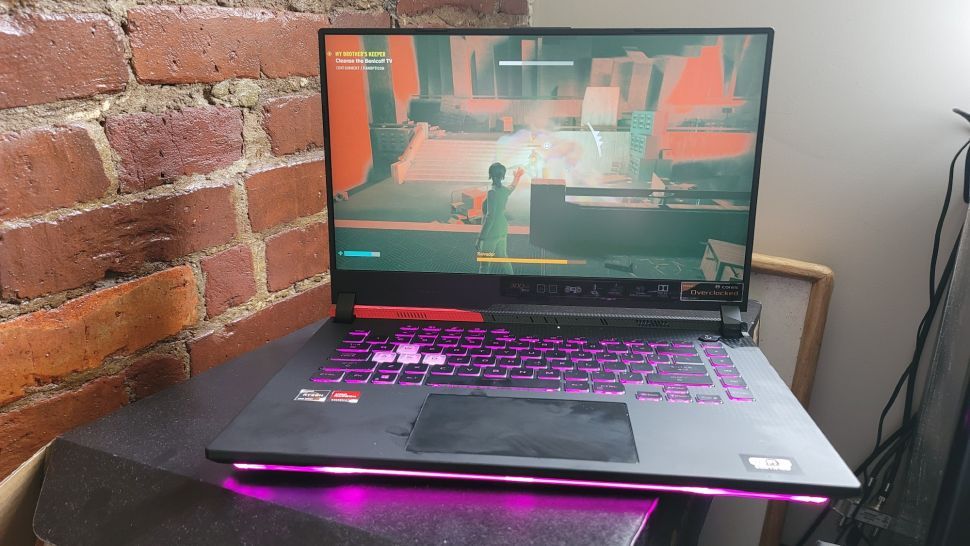 Asus has been showing us just how far AMD has come in the laptop space, serving up solid power and incredibly long battery life — and that's just with the processor. Imagine what an all-AMD system can do. With the Asus ROG Strix G15 Advantage Edition, the company is doing more than wondering "what if," instead outfitting its latest version the G15 with an AMD Ryzen 9 5900HX CPU, plus a Radeon RX 6800M GPU.
The result? A kick-ass system that serves up heaping amounts of performance, serious longevity and a host of Asus and AMD-branded utilities that really enhance the gaming experience for less than $2,000. You also get a lot of nifty tech focusing on balancing performance and power efficiency, with butter-smooth graphics and over 10 hours of battery life. And the system's standing toe-to-toe with some of the biggest names in the industry.
Read our full Asus ROG Strix G15 Advantage Edition review.
The Alienware x17 R2, which has quickly become a Laptop Mag favorite, has gotten scores more powerful thanks to some shiny new specs.
First, you've got the Intel 12th Gen Core i7-12900HK CPU that stands heads and shoulders over its predecessor. Next, you've got the Nvidia GeForce RTX 3080 Ti GPU, which has torn through every benchmark we've thrown at it. Add in the super clicky Cherry MX keyboard, powerful Dolby Atmos sound, and one of the fastest transfer rates I've seen on a laptop period, and you've yourself a ridiculously powerful gaming laptop.
See our full Alienware x17 R2 review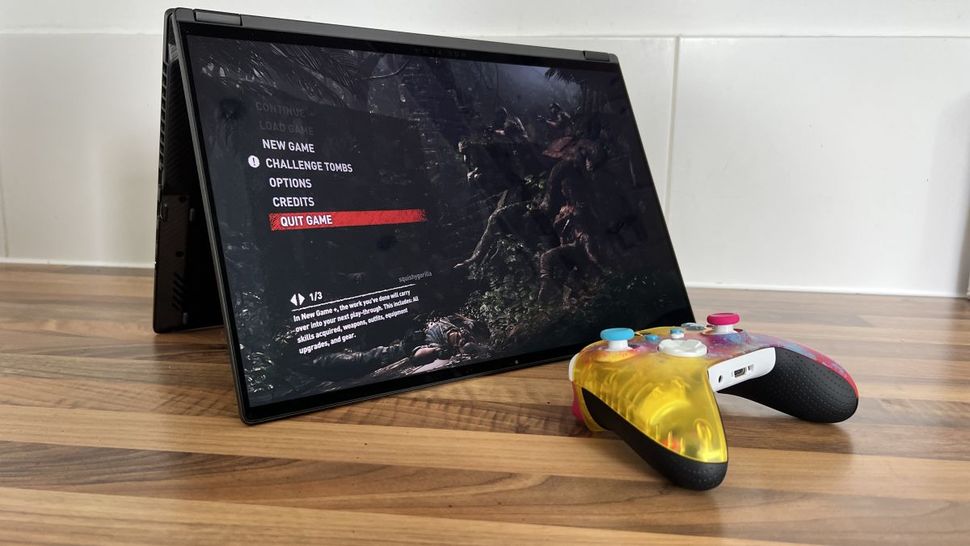 The Asus ROG Flow X16 is what happens when a giant gaming laptop gets freaky with a convertible ultraportable — and the result is glorious. It's a spectacular big screen ultraportable — a convertible, adorned with a subtle aesthetic, paired with uncompromising power that refines how you play games on-the-go. The quad speakers on the ROG Flow X16 with Dolby Atmos provide impressive clarity with a decent amount of bass to boot. Not only that, but they can hold their own at high volumes too.
With a beastly AMD Ryzen 6900HS CPU, up to an RTX 3070 Ti GPU and plenty of DDR5 RAM, a mini-LED display that is a treat for the eyes, and a 360-degree hinge that makes this rig a flexible hottie, this is ticking all the right boxes. Strong battery life and decent port selection complete the package, resulting in a system that is fantastic for both work and play.
See our full Asus ROG Flow X16 review.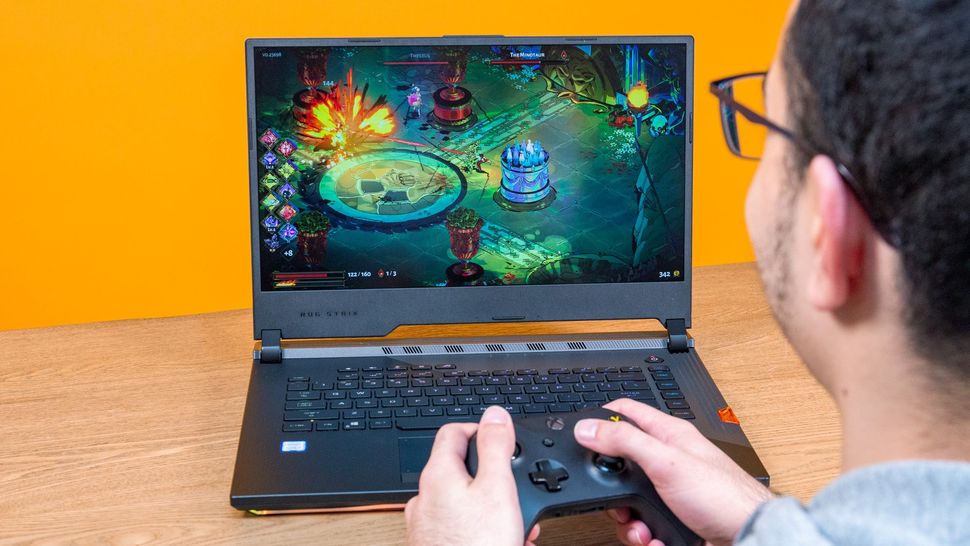 It looks like the third time's the charm for Asus. The company is back with the ROG Strix Scar III, and the new version is just as badass as its predecessor. For $1,799, you get a powerful gaming laptop with a RTX 2060 GPU wrapped in a chassis packing a smooth 15.6-inch, 240-Hz panel. In addition, you have a comfortable keyboard and a cool ROG Keystone – a magnetic encrypted key that unlocks custom lighting effects for the laptop as well a piece of storage that's locked on your hard drive. . 
The Strix Scar III is quite the impressive gaming laptop, offering strong performance, a 240Hz panel, long battery life, a clicky keyboard and decent speakers. The laptop easily barreled through our battery of tests and even managed to last over 5 hours on our battery test. Overall, the Asus ROG Strix Scar III is one of the top gaming laptops you can buy right now.
Read our Asus ROG Strix Scar III review.
Acer's updated Predator Triton 500 SE is a sleek, subtle powerhouse you can sneak into the office, get nearly a day's worth of work done. And if you plug in during your lunch break, you can vanquish your enemies and get back to business. Featuring a 12th Gen Intel Core i9 CPU and Nvidia's powerful 3080Ti GPU with 16 GB of VRAM, this Predator is hiding its potent gaming genes underneath a gorgeous all-aluminum, gun-metal grey exterior that is office elegant. Even its air vents possess an understated aggressive look that will excite you.
Though the Predator feels lighter and looks smaller than you would expect, once you pop it open and are introduced to the 16-inch, 16:10 aspect ratio, 240Hz display, you will find yourself totally immersed in whatever you're doing.
See our full Acer Predator Triton 500 SE (2022) review.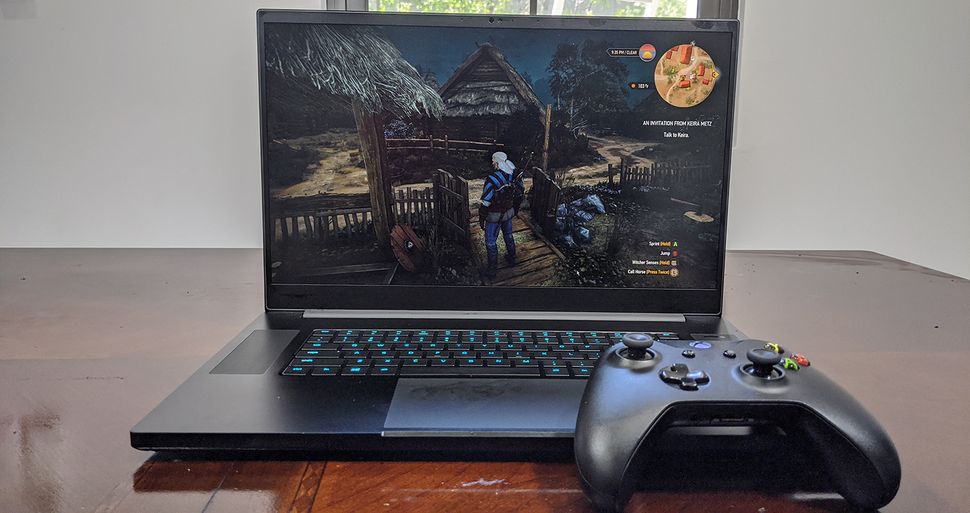 Razer still believes in going big or going home. The latest Razer Blade Pro 17 seeks to wrap the functionality of a gaming laptop and a workstation in a nice slim CNC aluminum bow. It's the latest to incorporate Intel's 10th Gen octa-core H-series processor into the mix along with Nvidia's new RTX Super GPUs. And if that isn't enough, Razer has upgraded its always lovely displays to a 300Hz refresh rate, which should be music to the ears of gamers in pursuit of buttery smooth graphics for serious accuracy.
Those powerful specs allow the laptop to go toe-to-toe with its main competitors on both the gaming and multitasking fronts. The Blade Pro 17 also manages to deliver great endurance on our battery test lasting nearly 5 hours. And it also has a great webcam, which is somewhat of an anomaly in laptops in general. 
See our full Razer Blade Pro 17 review.
The MSI Crosshair 15 Rainbow Six Extraction Edition comes to us through a partnership between Ubisoft and MSI to craft a standout gaming laptop worth your money. It's powerful and prepared to handle modern games with ease, all while boasting design elements inspired by Rainbow Six: Extraction.
The Crosshair 15 does a good job of balancing its design elements without making overt references to its source material. On top of that, the laptop is an absolute beast, boasting fantastic gaming performance, a staggeringly vivid display and solid battery life. It's not perfect, but beyond that, it's a solid gaming laptop overall.
See our full MSI GS66 Stealth review.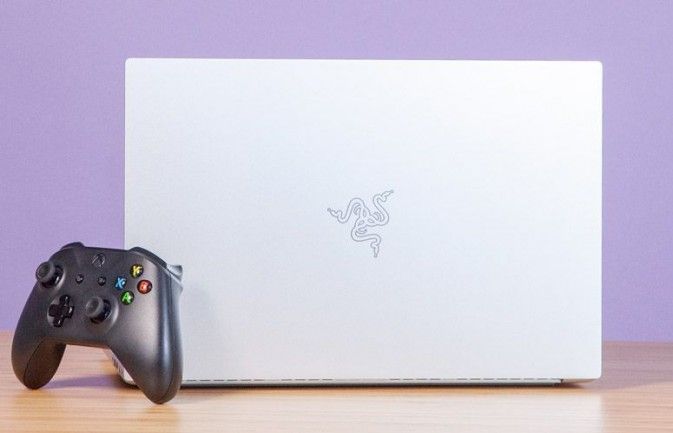 Starting at $1,599, the Blade is one of the lightest gaming laptops around, delivering strong performance and over 6 hours of battery life. This is also the first system in the Blade line to offer dual storage. And if that's not enough for you, Razer's also offering the notebook in a stunning Mercury White aluminum chassis that's sure to have all eyes on you when you make the winning play.
But where Razer really apes other 15-inch gaming systems is in its size. The 4.7-pound, 14 x 9.3 x 0.7-inch Blade 15 is one the smallest 15-inch gaming systems you can get on the market. But don't sleep on its performance, with an Nvidia RTX graphics card, the Blade 15 is here it comes bearing gifts of ray tracing and artificial intelligence. This top gaming laptop is ready to game, video edit, crunch numbers and more at the drop of a hat.
Read our full Razer Blade 15 review.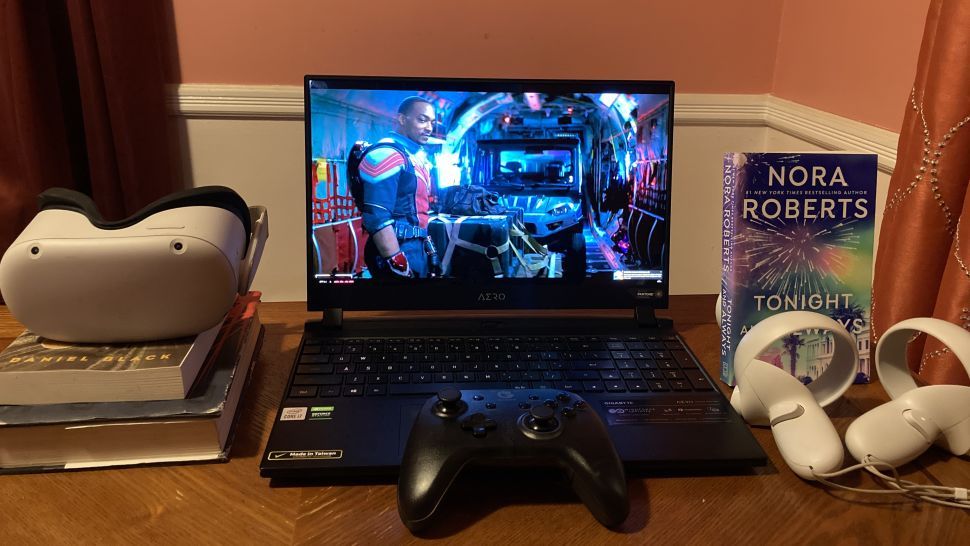 The Gigabyte Aero 15 slid into the game with guns ablazin'. It's updated with Nvidia's new 30-series chipset, a gorgeous 4K OLED display and a lightly tweaked design that says, "I'm a gaming laptop, but I don't need to scream it to the mountaintops."
Gigabyte got a lot of things right with the Aero 15, including its sturdy, all-aluminum, jet-black chassis, gorgeous OLED panel and satisfying, clicky keyboard. Its gaming and performance benchmarks are decent, too. However, Gigabyte gets it all wrong with that awful nosecam. The Aero 15 is an excellent choice for content creators. Photo and video editors will benefit from the Aero 15's color-accurate 4K panel, but they'll also enjoy the pleasures of diving into one of their favorite triple-A titles after a long day of work.
See our full Gigabyte Aero 15 (2021) review.
The HP Victus 15 won't appeal to professional gamers who demand the latest and greatest, but it has enough razzle dazzle to win the affections of casual players. The HP gaming rig sports a 12th Gen Intel Core i5 CPU, a 144Hz refresh rate display, updated thermals, and a sophisticated, office-friendly onyx chassis that can double as a work laptop. The HP Victus 15 is a dream for unpretentious, budget-conscious gamers.
As long as you don't plan on running Microsoft Flight Simulator, which is known for bricking GPUs, Shadow of the Tomb Raider, or any other game that requires a lot of graphical juice, you should be fine with the Victus 15. 
See our full HP Victus 15 (2022) review.
How we test gaming laptops
When we bring a laptop into our laboratory, our goal is to see how it would work if you brought it into your home or office. While we use a number of industry standard benchmarks such as Geekbench and 3DMark, we focus heavily on real-world tests that we have developed in-house.
To test endurance, the Laptop Mag Battery test surfs the web at 150 nits of brightness until the system runs out of juice. To judge pure processing power, we use a giant spreadsheet macro that matches 65,000 names with their addresses, a video transcoder that converts a 4K video to 1080p and the Geekbench 4 synthetic test. We measure graphics prowess with both 3DMark Ice Storm / Fire Strike and a series of actual game titles.
We use a colorimeter to measure screen brightness and color gamut while other instruments help us determine a laptop's key travel and ambient heat. See this page on How We Test Laptops for more details on our benchmarking procedures.
How to find the right gaming laptop
When shopping for a gaming laptop, there's a lot to consider. To help you choose a system, here are five key points to keep in mind when choosing a system.
Budget: What you get for the money.
You can find good inexpensive gaming laptops for under $1,000. However, more powerful mainstream gaming laptops are often priced between $1,500-$2,000. Premium systems typically cost more than $2,000 and come stacked with a host of high-powered goodies such as high-powered specs and tricked-out software.
Screen Size: 15 inches is the go-to
It's very rare that you'll find a 13 or 14-inch gaming laptops nowadays as smaller bezels and lighter frames have paved the way for seriously thin-and-light gaming laptops. That means the days of chunky 15.6-inch laptops putting a strain on your back are over (almost).
From there, you have the 17.3-inch desktop replacements that like their smaller counterparts are becoming super svelte. But there are still the big behemoths that don't skimp on the specs. However, weighing upwards of 8 pounds, those big boys are made for your home gaming station. 
Screen Resolution: 1080p for high refresh rates, 4K for detail
When it comes to gaming laptops displays, you want to strike a balance between frame rates and aesthetics. And in case you're planning to get a truly mobile system battery life is also deserves consideration. We recommend checking out a system with a 1080p resolution. Panel makers are now serving up screens with high refresh rate, topping out at 360Hz with a 3 millisecond response rate. But don't count out 4K screens yet as we're starting to see laptops with 4K displays with 120Hz. Keep in mind that laptops with lower resolutions tend to have longer battery life overall.
Refresh rate: 120Hz is the sweet spot
Depending what kind of games you're playing, particularly first person shooters and MOBA, you'll take anything that will enhance accuracy. Surprisingly, the higher a display's refresh rate is, the more accurate your shot become. It's a phenomenon that we've experienced first hand during many demos. And while 60Hz is passable, right now we recommend investing in a panel with at least a 120Hz refresh rate. 
Intel or AMD?
A couple of years ago, the answer to this question would have been undoubtedly Intel. But AMD has made a furious comeback with its new Ryzen CPUs, which are delivering great overall performance. Thanks to the architecture in the new Ryzen chips, they're super power efficient without sacrificing productivity. The Ryzen 5000 series CPUs have consistently impressed with its performance versus battery life.
Not to be outdone, Intel's 11th Gen chips are nothing to sneeze at. Laptop manufacturers have started rolling out systems with the Intel's 11th Gen H-series Tiger Lake chips. The 10-nanometer chips are extremely powerful, but still at the low-end of the spectrum with the overclockable HK-series CPU, due to launch soon. Why do you want to invest in an overclockable processor, because with the touch of a button, you can squeeze even more power out of the system. It comes in handy when you're multitasking or playing a really demanding game. 
Battery Life: At least 4.5 hours
Unless it's plugged in, gaming laptop battery life tends to be very short, especially when gaming. However, gaming laptop battery life has gotten increasing longer over the years. So much so, that anything under 4.5 hours is considered below average. But we've just reviewed our first gaming laptop that's lasted into the double digits. With results like that, we expect gaming laptops will match their non-gaming counterparts sooner than later. Our most power efficient gaming laptop ran over 11 hours and sits on our longest-lasting laptops page.
Specs: 1080p / Core i5 / 16GB Are Best Bets
You can spend a lot of time delving into specs, but here are the key components to think about. If you just want really good mainstream performance, go for a Core i5 CPU, 16GB of RAM, a 512GB SSD and a 1080p screen.
Why trust Laptop Mag
Laptop Mag has been testing and reviewing laptops for over two decades. We test over 150 different models per year, subjecting each system to a series of rigorous benchmarks that provides a complete picture of performance, battery life and usability.
Our expert reviewers also use each product to see how it looks and feels in everyday situations. Because we see so many different notebooks, we can compare each to its direct competitors and give you an idea of how it stacks up to the average laptop in its price band.