macOS Ventura comes packed with free built-in apps that can simplify people's lives. So when you buy a new Mac, like the MacBook Pro (2023), you invest in both premium hardware and software perks that Apple has to offer.
One of the underappreciated applications that you will find on your Mac is Dictionary. In many ways, it provides a simple way to look up words, but its purpose goes beyond just that. If you are not sure how to fully utilize or navigate this app, we are here to break it down and its features.
How to set up the Dictionary app on your Mac
When you launch the dictionary app for the first time, you will need to adjust its settings first.
Click dictionary in the menu bar, then select settings.
There you will find a list of all supported languages, as well as Wikipedia. Toggle the checkbox next to each language you're interested in to add it to the Dictionary app.
Once done, you can close Settings to start using the actual app.
How to use the dictionary application
The dictionary app has a very simple user interface. The first item you might notice is the language bar towards the top left. There, you can click everyone To search all dictionaries of added languages, or you can choose a specific language to search in individually and exclude results from other languages. Once you are all set up, you can click on the search field in the upper right corner and type in the word you wish to search for. Next to the search field, you'll also find two a Buttons that you can use to decrease or increase the text size.
When searching for the meaning of a word, the sidebar on the left will display a list of the following words in alphabetical order. You can click on any of them to search for them. The main section will display the definition of the word in each of the selected languages. If you enable the Wikipedia option, typing a word into the search field will also fetch information and images about it from Wikipedia's dedicated web page, when available.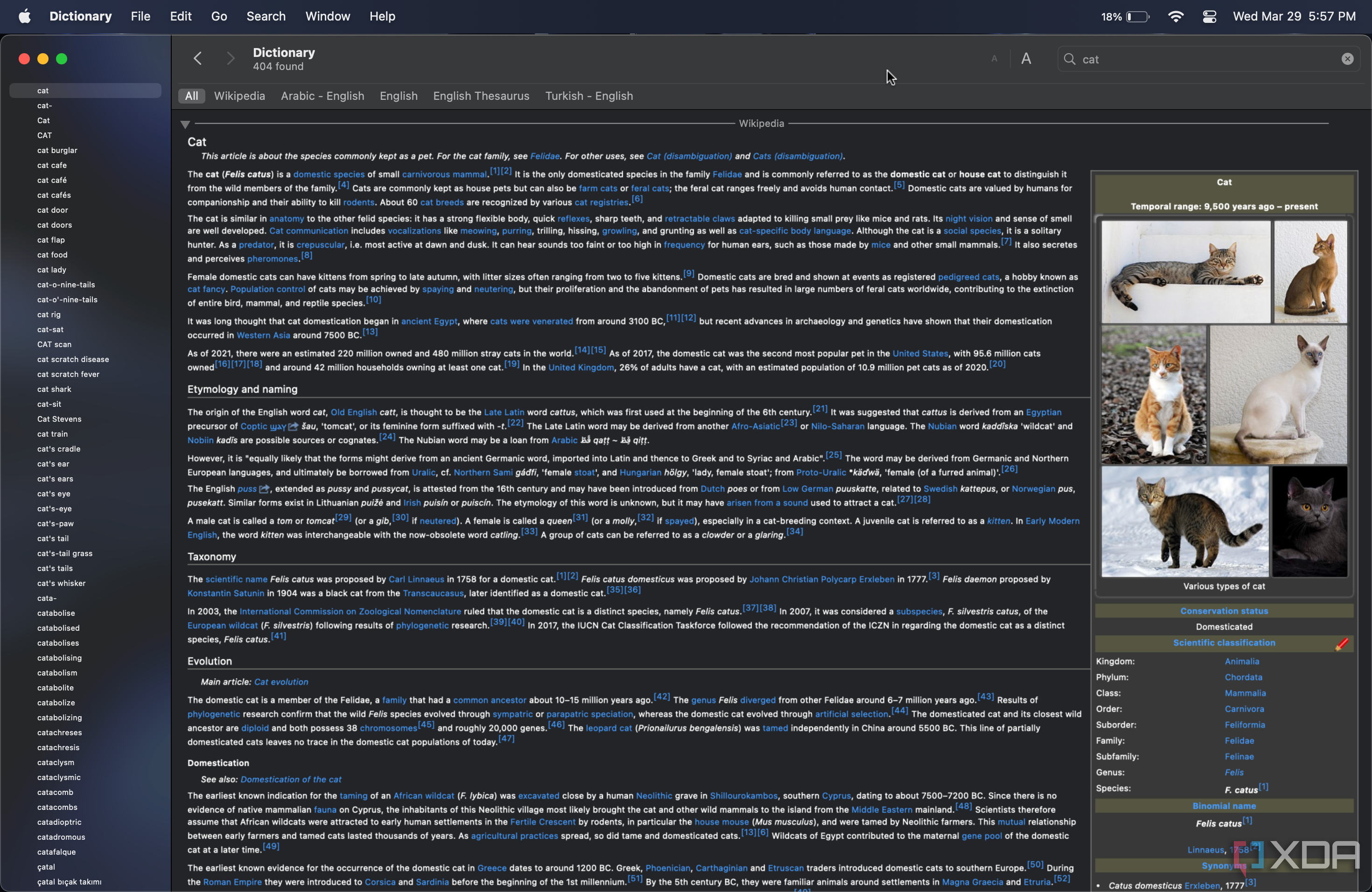 Note that apart from Wikipedia, there are three main uses for the Dictionary app. You can use it as a regular dictionary that explains the meaning of the word using the same language. It can also act as a thesaurus providing you with synonyms for a word in the same language. Finally, you can also rely on it to translate a word from one language to another.
The Dictionary app on macOS also has some nifty shortcuts and tricks. For example, you can type any word into Spotlight Search across macOS, and the dictionary results will be included, saving you from having to launch the dedicated app. Additionally, you can force-click a word across macOS to bring up a dictionary result. Finally, if you're inside the Dictionary app, you can also tap on highlighted words in a definition to search for said words.
---
As you can see, while Dictionary on macOS has a fairly basic interface, it's actually a pretty powerful tool. This is especially true when considering Wikipedia integration and system level privileges across macOS. This makes it a central information hub where you can not only select a word, but also read detailed explanations about it.