Samsung has just deposited the name of no less than 9 new smartphones in the Galaxy A range. In 2020, the manufacturer will keep its foot pressed on the accelerator pedal. The Korean has multiplied its mid-range models in 2019 and intends to continue its momentum this year and beyond .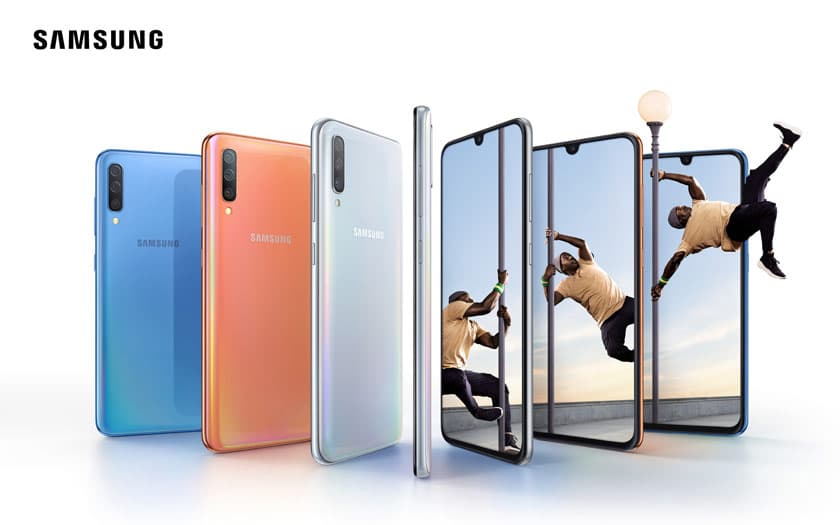 At Samsung, 2020 promises to be just as prolific as the past year. The manufacturer's catalog has grown with the proliferation of models in the Galaxy A range , a choice characteristic of a radical change in strategy. The high-end is no longer the sole property of the Korean and this decision has paid off. Samsung did better than limit the breakage last year by pulling out despite the general decline in growth in the smartphone market.
The manufacturer owes much to its mid-range models. As proof, the presence of the Galaxy A10 and A50 in the top 3 of the best-selling smartphones in the penultimate quarter of 2019 when neither the Galaxy S10 nor the Galaxy Note 10 were in the top 10.
Galaxy A12, A22… A92: Samsung reserves the name of several smartphones
Hang in there: Galaxy A12, A22, A32, A42, A52, A62, A72, A82 and A92. In total, Samsung has filed the names of 9 new models. Most of these smartphones will be released next year but this is indicative of the fact that the manufacturer will maintain its pace in 2020. It already announced the color last December with the officialization of the Galaxy A51 and A71 which will be released in Europe in the weeks to come up.RECOMMENDED VIDEOS FOR YOUSAMSUNG GALAXY S10 + review: simply the BEST!Now playing
These smartphones will cover a wide spectrum of prices, the Galaxy A12 being the most affordable and the Galaxy A92 the most expensive of the lot. As a reminder, the Galaxy A91 is still waiting and the latest news, this model would ultimately be the smartphone expected under the name Galaxy S10 Lite in some markets , especially on the old continent.